Step-by-Step Guide to Diamond Pattern Driveway Installation for Stunning Curb Appeal ===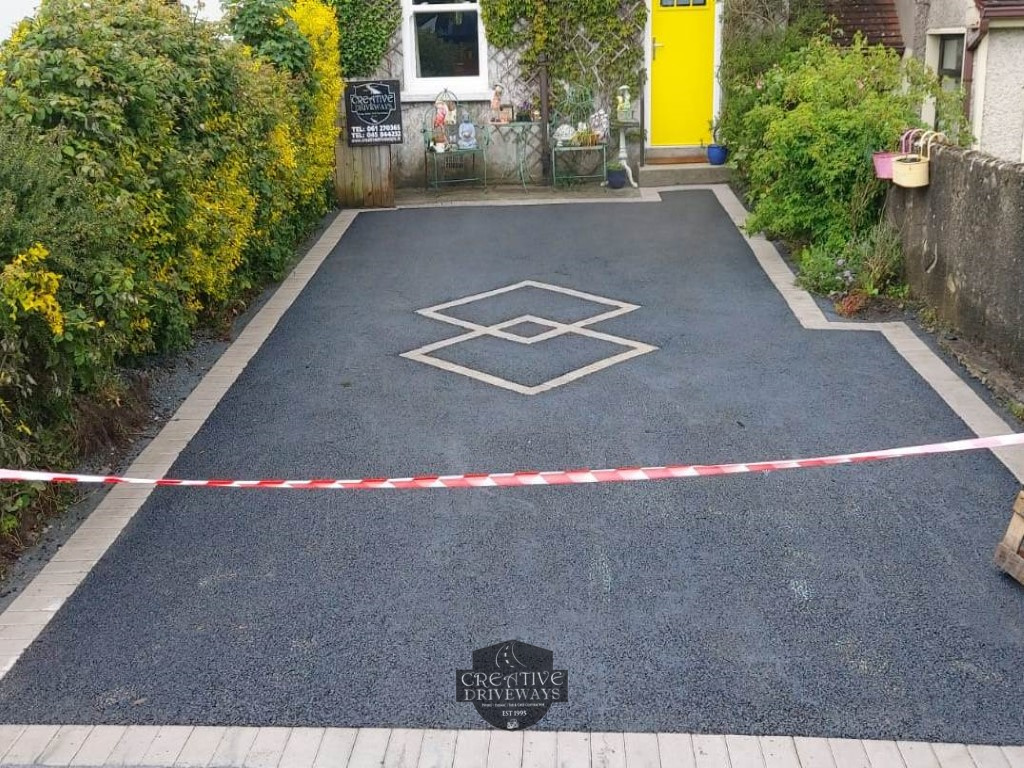 Are you looking to enhance the curb appeal of your home with a stunning diamond pattern driveway? Well, you're in luck! In this step-by-step guide, we will walk you through the process of planning, preparing, and installing a diamond pattern driveway that will leave your neighbors in awe. So put on your work gloves and let's get started!
Planning and Preparing for a Diamond Pattern Driveway
Before you start any construction project, it's essential to plan and prepare adequately. Begin by measuring the area where you want to install the diamond pattern driveway. Make sure to mark the boundaries clearly and remove any existing vegetation or obstructions. Next, determine the type of pavers you want to use. Opt for durable materials like concrete or interlocking stones that can withstand heavy traffic and harsh weather conditions.
Once you have your measurements and chosen materials, it's time to prepare the foundation. Excavate the area to a depth of at least eight inches, removing any loose soil or debris. Compact the soil using a plate compactor to ensure a stable base for your driveway. Then, add a layer of crushed stone and compact it again. This will provide a solid foundation that can withstand the weight of vehicles.
Laying the Foundation: A Step-by-Step Guide
With the groundwork completed, it's time to lay the foundation for your diamond pattern driveway. Start by spreading a layer of sand over the compacted crushed stone. Use a rake to level the sand and create an even surface. This layer will act as a cushion for the pavers and allow for minor adjustments during installation.
Next, take your time to carefully lay the pavers in a diamond pattern. Start from one corner and work your way across, ensuring proper alignment and spacing between each paver. Use a rubber mallet to tap the pavers gently into place, ensuring they are level with one another. To maintain the integrity of the pattern, cut any pavers that don't fit using a wet saw.
Once all the pavers are in place, spread fine sand over the entire surface. Use a broom to sweep the sand into the joints between the pavers, filling any gaps. Then, use a plate compactor to vibrate the pavers, allowing the sand to settle and secure the driveway. Add more sand if needed and repeat the compaction process until the pavers are firmly in place.
Creating an Impressive Diamond Pattern Finish
To achieve a stunning diamond pattern finish, it's crucial to pay attention to the final touches. Once the pavers are secured, use a leaf blower to remove any remaining sand from the surface. This will give your driveway a clean and polished look. Additionally, you can consider sealing the pavers to enhance their color and protect them from stains and fading. Follow the manufacturer's instructions for the sealing process.
Finally, add some finishing touches to complement your beautiful diamond pattern driveway. Install landscape lighting along the edges to highlight the design at night. Plant colorful flowers or shrubs along the sides to add a touch of elegance. With these final touches, your diamond pattern driveway will truly become a showstopper, leaving your neighbors and guests in awe.
A Stunning Curb Appeal Awaits You! ===
5 gorgeous paver driveway ideas to make your house front standout Published by TechoBloc on Nov 8 2020 100000 AM So you39re looking to increase your home39s curb Appeal and give your property a fresh new look Have you ever considered upgrading your driveway8 Stunning Options for Driveway Pavers Published by Daphne Dubois on Oct 11 2020 100000 AM Driveways are a homeowners chance to make a good first impression In fact they are most likely the first thing that a guest will notice when they pull up to your homeMadson Design Repair enhance or replace Repairing an existing driveway or path costs far less and takes less time than replacing it Cracked asphalt can be filled and a new layer of asphalt added over the old For badly cracked concrete drives and walks however repairing is not an
optionInstallation gt Paver Installation gt How to Build a Paver Driveway This guide will take you through the stepbystep process of building a driveway with Unilock pavers01 of 22 Clean Lines Cathie Hong Photo by Margaret Austin Photography This home features clean lines throughout including the roof line the porch exterior the fence and the garage door The driveway is no different and features horizontal concrete slabs for a cohesive look that39s clean simple and visuallyAppealingLaurie Black Use planted containers to create instant curb Appeal on a budget Turn your home39s entry into an inviting focal point by adding a few wellchosen and nicely arranged plants on the front porch Vary the plant and container sizes and arrange them on multiple levels 05 of 2615 Sensational Curb Appeal
Ideas with Pavers From paver driveway design to front yard walkway ideas incorporating curb Appeal ideas with pavers into your landscape will add instant curb Appeal Its time to pave the way is now Angi Learn more Join Our Pro Network Sign up now Sign in Interior Appliance Repair Carpet Cleaning Contractors DrywallPaver Colors Color choice is among the most important considerations when designing a paver driveway This will determine how well your driveway fits with your home other structures and other hardscapes To ensure a cohesive look you need to choose a color that complements these other features
Congratulations! You have successfully completed the installation of a diamond pattern driveway that will undoubtedly enhance the curb appeal of your home. By following this step-by-step guide, you have transformed a mundane driveway into a stunning focal point. So sit back, relax, and enjoy the admiration from passersby as they marvel at your beautifully crafted diamond pattern driveway.